This is my neighborhood yarn shop, where I've been a customer for more than 15 years and where I've been teaching since 2009.  I teach beginning classes, as well as project classes, techniques, and Thursday night clinics, where you can come in with any knitting question or problem and get some one-on-one help.
Summer teaching/clinic schedule
I don't stop knitting during the summer, but lots of my students do, so I will be teaching a limited number of classes this summer, but if there is something in particular you're interested in learning, come to a clinic or drop me an email.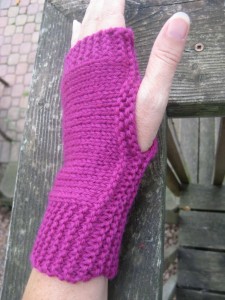 Knitting 101
Once a month I'll be teaching beginning knitters to cast on, knit, purl, bind off, and anything else we can fit in.  I always offer my free Easy Fingerless Mitts pattern to my students to teach them pattern reading skills and give them a chance to get started on a quick project.  Students wishing to follow up the two-session class with more techniques can sign up for a Thursday night clinic.
June class: Tuesdays, June 12 and 19, 6-8 pm
July class: Sundays, July 15 and 22, 2-4 pm
August class: Tuesdays, Aug 7 and 14, 6-8 pm
Cost: $20.
Materials: Smooth, worsted weight yarn (preferably a light to medium color so you can see your stitches) and size 8 needles.
Call the shop or stop in to sign up or sign up on NU's website here.
Thursday night clinics
This is an opportunity to ask me anything, to get started on a new project, or to get help with unfamiliar techniques.  Call ahead 612-925-2454, or sign up online here (note there are three dates I am not holding clinic: Jun 7, Jul 5 and Aug 23)
Cost: $15 per clinic
Project classes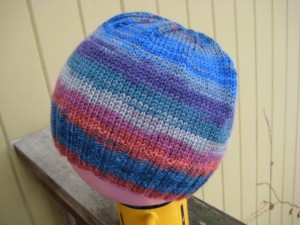 Basic Hat
Tuesdays, July 10 and 17, 6-8 pm
Cost: $25
A basic hat is a great project for the beginning knitter.  Students will learn how to measure their heads for a good fit.  They will knit in the round with a circular needle and double pointed needles (or with a long circular and the Magic Loop technique), learn to do decreases and how to weave in the ends.  Options for modifying the hat for different decrease effects at the crown will be offered.  Students must be able to knit and purl confidently.
Materials: 100 g (approx 220 yds) worsted weight yarn (Hat sample knit with Liberty Wool.); size 6 16″ circular and dpns OR size 6 32-40″ circular needle with very flexible cable (for the Magic Loop technique); stitch marker and tapestry needle; Knitting Pure & Simple Basic Hat and Mitten pattern (any version is appropriate)
Call the shop or stop in to sign up, or sign up through NU's website
here.
Basic Mittens
Wednesdays, Aug 8 and 15, 6-8 pm
Cost: $25
Mittens are a great small project for newer and experienced knitters. Students will knit a child's size mitten in order to get through all the concepts and techniques used when knitting a mitten. Students will learn to knit in the round, increase stitches, decrease stitches and weave in ends. Tips and tricks for eliminating holes at the base of the thumb will be taught, as well as how to use the concepts learned so that you can make a mitten to fit any size hand with any thickness of yarn
Prerequisites:  Knitters must be able to knit and purl confidently.
Materials: Set of size 6 dpns or 32″ circular with a very flexible cable (such as Addi Lace Turbo) for Magic Loop method, 100 g worsted weight wool, tapestry needle, paper and pen, Knitting Pure & Simple Basic Hat & Mittens for Children pattern.
Call Needlework Unlimited to sign up, or sign up through their online shopping cart system, or visit the store.