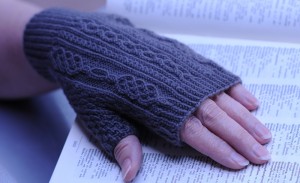 A little over a year ago, when I began working on Level III of the Master Hand Knitting program, I knew I had to write a report on two traditional knitting styles.  I love textured knitting, particularly when it involves cables or twists, so immediately I decided that the two styles I would discuss would be Aran and Bavarian.  The Aran tradition was easy to research — there are lots of books written in English that discuss the origins and evolution of the style.
What wasn't so easy was getting information about the Bavarian/Austrian traditional style.  Information written in English is sparse and repetitive from one source to another.  The two frequently mention resources for the stitch patterns themselves were Maria Erlbacher's 3-booklet set Uberlieferte Strickmuster and Lisl Fanderl's 3-volume hard cover set Bäuerliches Stricken.  Both were (and are) excellent stitch dictionaries, but they were available only in German (if they were available at all). The patterns were all charted, so it was relatively easy to learn to read the charts and ignore the text, which in Erlbacher's booklets was minimal.
In the past couple of years, Schoolhouse P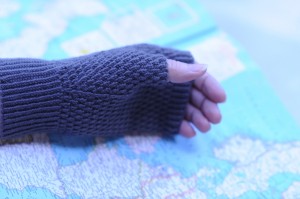 ress had Erlbacher's booklets translated to English (largely to help with reading the garment patterns) and the books were combined into a single volume titled Twisted-Stitch Knitting.  Still, even with the translation, there wasn't much to learn about the history of the style.
Last fall, Fanderl's books were re-published in a new edition (the books had been out of print for years, and difficult to come by at a price anywhere near reasonable). This was fantastic, and I ordered the set right away.  What I discovered was that Fanderl included a lot of information in her books about the history of the style, as well as information about which stitch patterns were unique to certain regions.  This was incredible!  I would be able to do the research I'd longed for, the only problem was that all of the text was in German, and in the Bavarian dialect, to boot.  Google Translator only got me so far.  I could get the gist in many cases, but in others, I couldn't figure out what was meant.
Enter my friend Susan,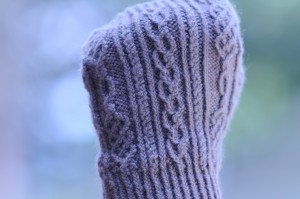 a knitter and professional German translator.  She helped me figure out particular passages that had stumped me, skimmed through other passages to let me know whether there was any gold in them, and allowed me to thoroughly research this style and write my report in a way that wouldn't have otherwise been possible.
In return, I knit her the fingerless mitts shown at the top of the post, translating traditional stocking patterns to a fingerless mitt, and using the filler stitch commonly used for calf gussets for the palm and thumb gusset.
The pattern was released today on Ravelry.  I'm calling it Translated, of course.